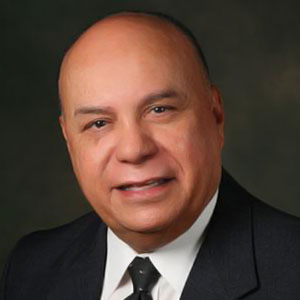 Wilfredo J. Gonzalez is a retired District Director for the U. S. Small Business Administration (SBA). He served the small businesses of North Florida since December 1996. Gonzalez served as the District Director for the Washington D.C. District Office from May 1994. Gonzalez was responsible for delivering SBA programs and services to 43 Counties in North Florida. He oversaw the daily operations of federal staff located in Jacksonville and Orlando, Florida. Under his leadership, the district saw a steady increase in government backed lending activity since the economic downturn of 2009. 
Prior to this appointment, Gonzalez held several leadership roles including Associate Administrator for Minority Small Business and Capital Ownership Development at the SBA; Regional Director for the Department of Commerce, Minority Business Development Agency in Atlanta, Georgia; Staff Director with the U. S. Commission on Civil Rights; Associate Director of EEO and Civil Rights with the U. S. Department of State; Country Director of the Peace Corps in Ghana, West Africa; Chief of Operations for Peace Corps Latin America Region; and Deputy Director of the Peace Corps in Bogota, Colombia. Gonzalez started his federal career as a HEW Fellow in 1976; he subsequently served as Special Assistant to the Deputy Assistant Secretary at the Department of Labor.
Gonzalez earned his Bachelors of Arts from the University of Puerto Rico (Magna Cum Laude). He also attended the John F. Kennedy School of Government at Harvard University, Cambridge, Massachusetts, and the Federal Executive Institute in Charlottesville, Virginia.
Gonzalez serves the community through his membership in various boards and organizations including the Regional Community Institute (RCI) of Northeast Florida, Inc.; the Sheriff's Advisory Board of the Police Athletic League (PAL); the Board of the Jacksonville Zoo & Gardens; the SBDC Advisory Council; the UNF Student Affairs Community Council; the Community Advisory Board for WJCT (PBS); the Board for Visit Jacksonville; and the Northeast Florida Global Cities Initiative.
He previously served on the Board of Trustees of the University of North Florida, the Citizens Forum of the Florida Bar, the Judicial Nominating Commission for the 4th Judicial District, the Board of Directors of Habitat for Humanity (HABIJAX), the North Florida Hispanic Leadership Alliance, the Board of Directors of the National Council on Community and Justice, the Jacksonville Mayor's Hispanic American Advisory Board, the Florida State Advisory Committee for the U.S. Commission on Civil Rights, the oversight committee for the Better Jacksonville Plan, and the Sports & Entertainment Commission for the City of Jacksonville.
In 2014 Gonzalez received the NFL Hispanic Heritage Leadership Award from the Jacksonville Jaguars® and the Founder's Award from Latina Style Magazine.
Gonzalez is a Veteran of the United States Navy. He and his wife, Rocelia, are the parents of three children and reside in Jacksonville.