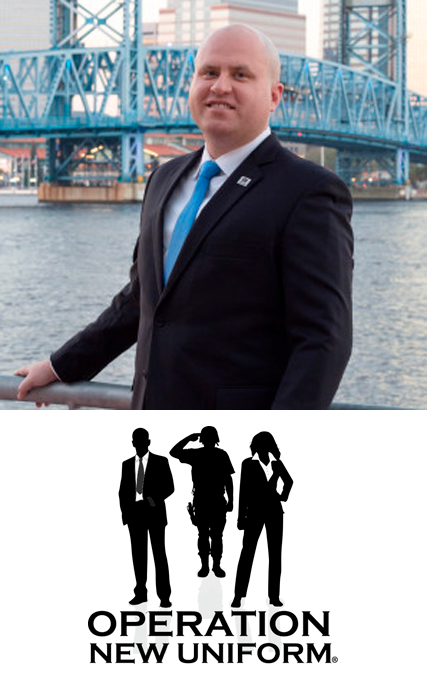 Navigating civilian life can be a shock to a veteran's system, especially considering the myths veterans hear about how uncomplicated it is to obtain post-military employment.
Operation New Uniform (ONU), the veterans' non-profit organization Justin Justice (pictured), Executive Director, operates is out to change that. ONU's training program helps veterans understand their military training and experience from a business perspective, and guides veterans while they manage the transition into the corporate world. Veterans learn how to confidently market their skills in sync with the jobs they want.
Justice experienced the myths involving veteran employment first hand. He served in the Navy for nine years and was medically retired after being injured during training. He then obtained an MBA and worked briefly at a coordinator level doing mostly data entry. Unsatisfied with his position, he left the company. He spent a year unemployed and very frustrated, but during that year, he met Michele McManamon of Sandler Training, a Maryland-based global training organization. They co-founded ONU in January 2014. "We had no seed money, no angel investors," he said. "We literally fought tooth and nail. We created a brand that didn't exist for a group of people that desperately deserved it."
In 2016, each ONU veteran benefited from an average of 66 hours of training and coaching. Ninety-six percent of ONU veterans find meaningful careers within four months of program completion. ONU's services are provided free of charge to professionally-minded veterans with honorable discharges.
The demand for ONU's services is much greater than ONU's small staff can supply. This means approximately 300 veterans are turned away each year. ONU currently employs three full-time staff members and relies on many skill-based volunteers. The organization currently spends no money on marketing, yet veterans from all over the U.S. are hearing about it by word of mouth and seeing results from the veterans who have come through the program. Ultimately, Justice wants to expand ONU to several locations throughout the U.S. Learn more about Operation New Uniform here!