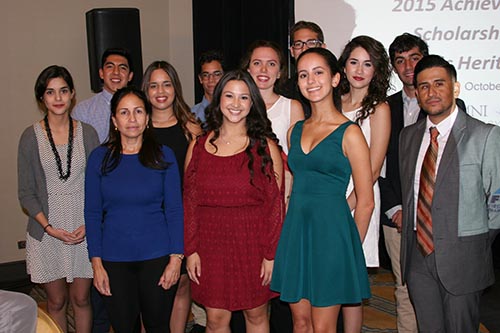 The 2015 FCHCC Achieving the Dream Awards Luncheon was held Friday, October 16 at the Omni Hotel and Resorts. Sixteen Hispanic students were awarded scholarships this year and FCHCC thanks everyone's assistance in making this a successful event. Below is a link to the documentary placed on social media with a call to action at the end and a list of this year's recipients. Also, included is a link to the story the Times-Union ran in last Sunday's paper which Maira Martelo, FCHCC Achieving the Dream Scholarship Selection Committee Chair, arranged through her contact and provided the information for. HOLA Noticias and Eco Latino Media Group were also there which we expect will have a story in an upcoming issue. Click here to read some of the kudos we have received on our success stories page.
Times-Union Story:  http://jacksonville.com/news/metro/2015-10-17/story/sixteen-latino-students-honored-annual-achieving-dream-event
Watch the Documentary: http://www.youtube.com/watch?v=26TiZVhWaDU
To learn more about the Achieving the Dream Scholarship program, click here!