Hispanic Heritage Month is a great opportunity to celebrate initiatives and programs that benefit our Hispanic business community. Prospera and the First Coast Hispanic Chamber of Commerce have collaborated for several years, and in recent months our partnership has grown stronger. Resources to support Hispanic business owners and aspiring entrepreneurs in the Jacksonville metro area—in Spanish and free to clients—are closer within reach than ever.
Prospera was established in Tampa in 1991 and its mission is to help start, sustain, and grow Hispanic-owned businesses to achieve community prosperity. Today, the nonprofit, economic development organization serves all of Florida, North Carolina, and Georgia. Last year, it began delivering services to our local community year-round.
"We're very glad to offer bilingual consulting services and entrepreneurial education in Spanish to Hispanic entrepreneurs in the Jacksonville metro area 12 months of the year now," said Katia Medina, Prospera Regional Vice President for Central and Northeast Florida. "Thanks to seed funding from JPMorgan Chase and Citi Foundation, we have been able to increase our local presence and be more accessible to the local Hispanic community. Furthermore, our partnership with the First Coast Hispanic Chamber of Commerce is helping us get to know the community and increase awareness of our services among those who need it the most."
Prospera's individual consulting is a high value, no cost service. Business owners can request to meet with a Prospera business consultant to analyze their specific business needs, individually and confidentially. Together, they work to identify opportunities and resources that might help the business (in any industry and at any stage) to be more sustainable, successful, and even scalable. Furthermore, Prospera can invest additional resources to help the owner secure capital, and/or advance the planning, marketing, financial recordkeeping, and more aspects of the business. To request an individual consulting session, click here.
Prospera is also hosting in-person seminars in Spanish at the UNF Adam W. Herbert University Center. Some seminars are intended as orientations for entrepreneurs in early stages of business, to help them start or formalize their enterprises more efficiently and cost-effectively. Others focus on topics that are relevant and helpful for business owners with established businesses. The next business seminar in Jacksonville will focus on financial statements and making better financial decisions for your business. It is scheduled for Thursday, November 17 at 6 p.m. and you can register here for free.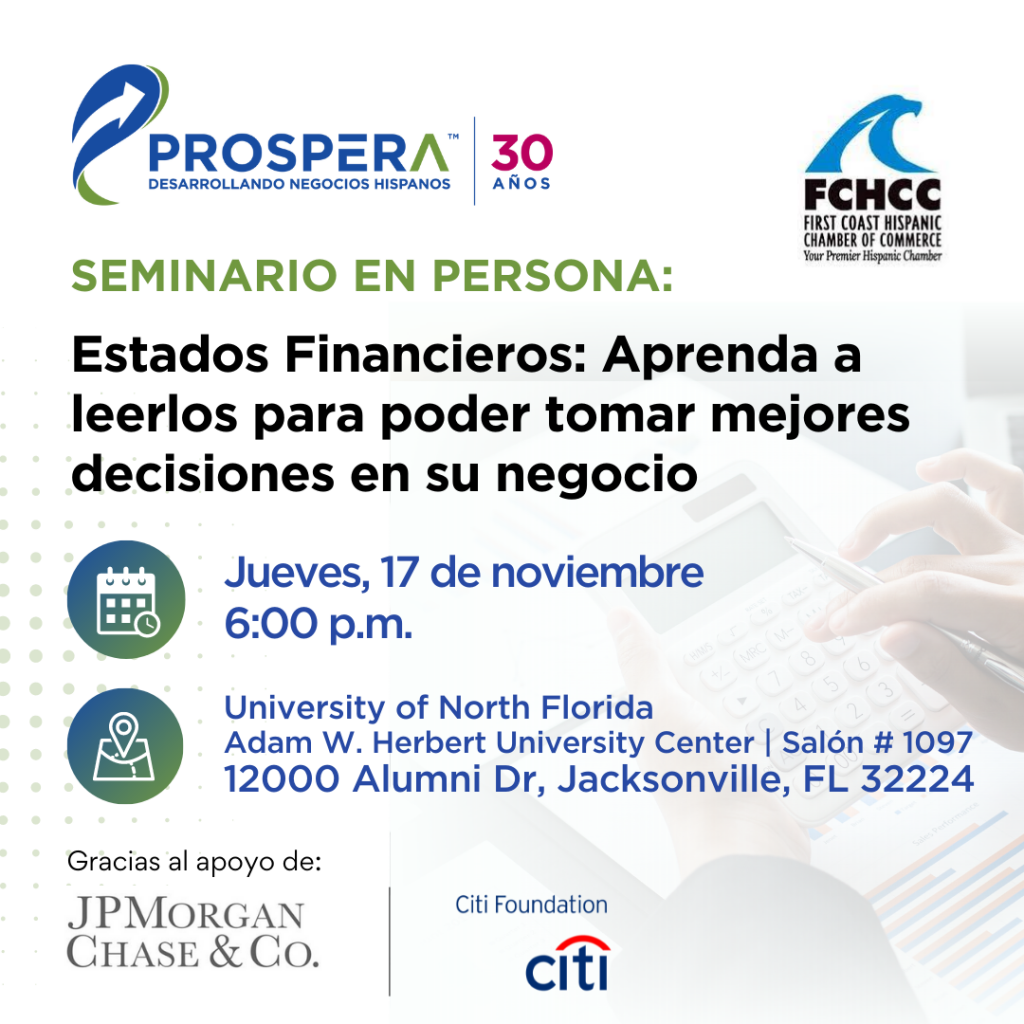 "Prospera's services complement what our chamber of commerce offers local entrepreneurs and Hispanic businesses and we're looking forward to an ongoing partnership that will enhance our Jacksonville entrepreneurial ecosystem," said Monica Hernandez, President of FCHCC. "Prospera can help fellow chamber members to scale and strengthen their businesses and new startup businesses establish with their assistance can join the chamber to continue growing, networking and promoting their products."
To learn more about Prospera, visit prosperausa.org, call 1-888-PROSPERA or (904) 999-1929 or email contact@prosperausa.org.