The First Coast Hispanic Chamber of Commerce (FCHCC) hosted "Hola Emprende" Developing your Business with a Friendly Bank sponsored by Bank of America on Thursday, September 7, 2023. This was a free, full-day workshop, the 1st of its kind, aimed at the Hispanic market.
Speakers included:
Monica Hernandez, FCHCC President & CEO
Keynote speaker: Elaine King, Founder of Family and Money Matters
Conchie Fernandez, Founder, CF Creative
Christian Carabias, Presenter, Hola TV
Jorge Lopez, iHeart Media
Synthia Jaramillo, USHCC
Coley Jones, Bank of America
Emcee: Marithza Calderon Ross, Action News Jax
Jonel Hein, Small Business Administration
Juan Chaluja, Florida Blue
Katia Medina, Prospera USA
This event was held at UNF's Adam W. Herbert University Center from 8 AM – 5 PM which included breakfast and lunch. The workshop included two panel discussions and two breakout sessions. A total of four classes were conducted with two of them held in the morning and two more in the afternoon session. All the classes were in Spanish and the attendees could choose which classes they wanted to attend.
FCHCC is thankful to all who participated in this event and for everyone who worked behind the scenes to make this 1st of its kind workshop successful.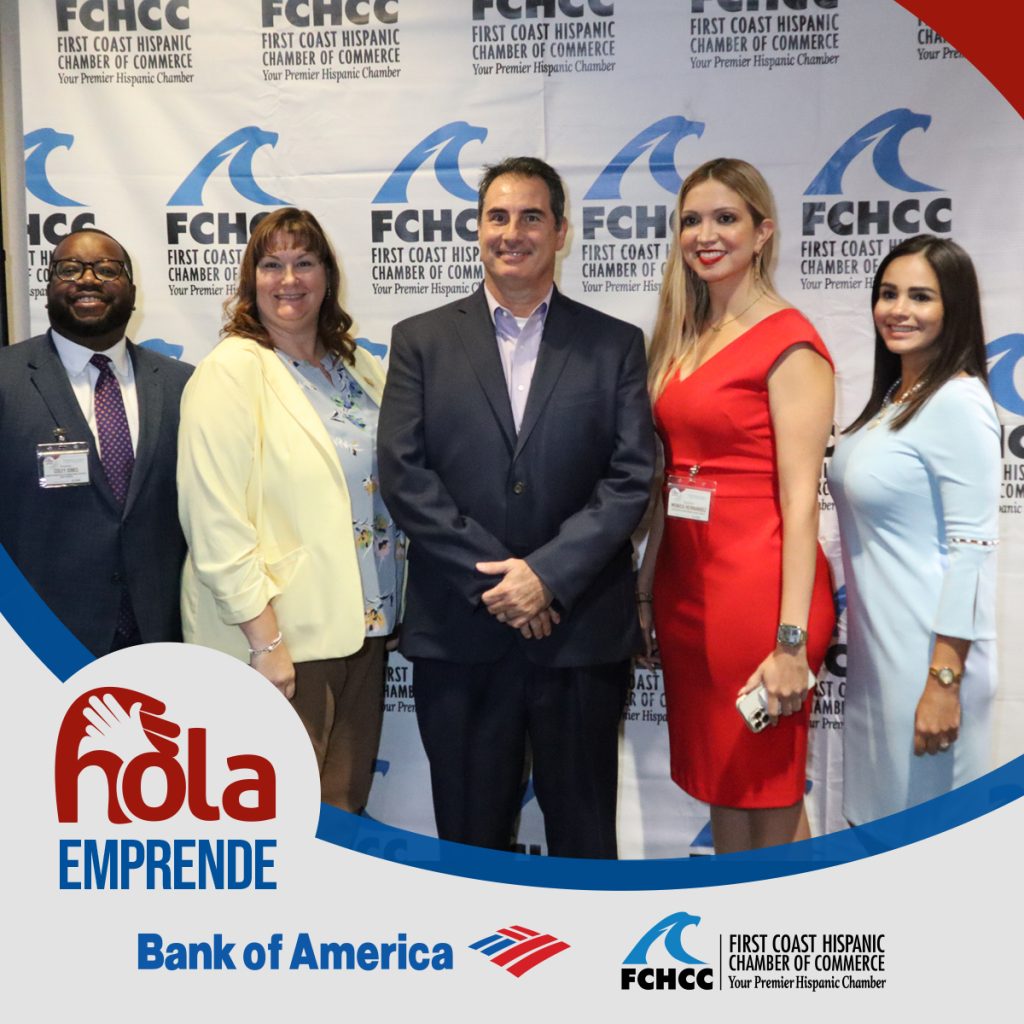 Panel Speakers l to r: Coley Jones – Bank of America, Jonel Hein – Small Business Administration, Juan Chaluja – Florida Blue, Monica Hernandez – FCHCC President & CEO and Katia Medina, Prospera USA
More photos on Flickr
About this Event
FCHCC was thrilled to announce the launch of this groundbreaking entrepreneurship event in Northeast Florida dedicated to empowering and supporting the Hispanic community. This event's initiative was to help attendees discover a world of opportunities, network with like-minded entrepreneurs and learn from industry experts all while enjoying the invaluable partnership of a friendly bank that's invested in their success.
For more information about this event and its speakers, click here.