Media Alert
The First Coast Hispanic Chamber of Commerce (FCHCC) is proud of their impact on the lives of more than one hundred scholarship recipients for their signature program, Achieving the Dream Scholarship, for over 30 years. Applicants undergo a rigorous process handled by a committee of community leaders determined to award 10 scholarships (valued at $2,000 each) to outstanding qualified Hispanic students of Northeast Florida. This year, the FCHCC is proud to announce awarding 10 Students with the ATD Scholarship.
These students were recognized for their achievements at the Hispanic Heritage Gala and Achieving the Dream Scholarship Awards presented by VyStar Credit Union on Friday, October 13, 2023. The gala will take place from 6:00 PM – 10:00 PM at Hyatt Regency Jacksonville Riverfront, Jacksonville, FL 32202.
The scholarship program enables students who work hard and achieve academic excellence to start or continue their education. The FCHCC Community Development Fund awards these scholarships based on primary criteria of financial need (30%) and academics (minimum GPA 3.0) (25%). The remaining points are assessed based on a finalist interview, letters of recommendation, video, essays, extracurricular activities, community involvement and honors/awards.
FCHCC congratulates an impressive group of 2023 Achieving the Dream Scholarship recipients.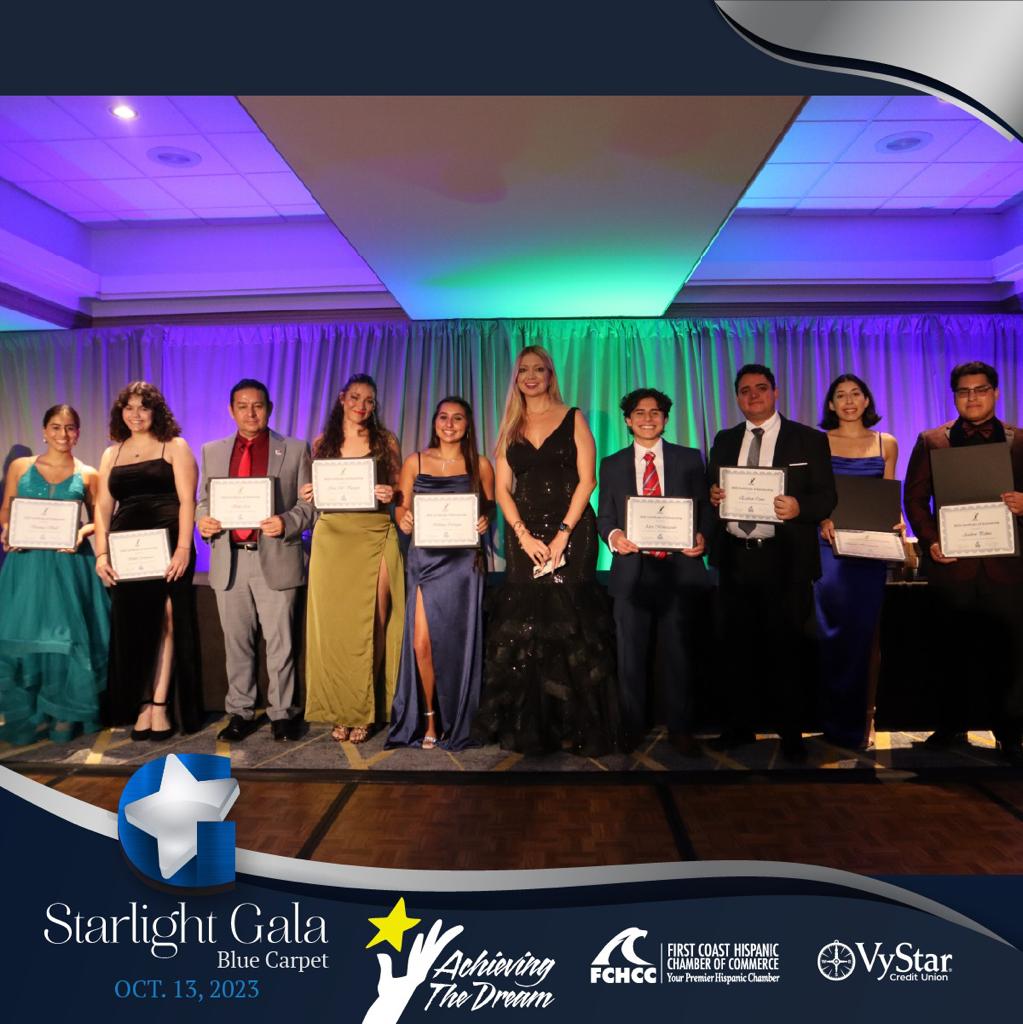 | Recipient | School | Major |
| --- | --- | --- |
| Abigail Hernandez-Carias | University of Central Florida | Bachelors in Health Science |
| Jose Monteagudo | Yale University | Bachelors in Global Affairs |
| Sofia Arce | University of South Florida | Bachelors in Biochemistry |
| Mia Vazquez | University of West Florida | Bachelors in Musical Theatre |
| Marlene Silva-Juarez | University of North Florida | Bachelors in Nursing |
| Melania Carrigan | University of Central Florida | Bachelors in Civil Engineering |
| Soleil Martinez | University of North Florida | Bachelors in Psychology |
| Esteban Cano | University of North Florida | Masters in Music |
| Veronica Schoff | Rollins College | Masters in Biology |
| Andrew Palma | University of Florida | Bachelors in Aerospace Engineering |
The Sponsors for the Gala and ATD Awards are as follows:
Presenting Sponsor: VyStar Credit Union
Gold Sponsors: CBS 47/Fox30/Action News Jax, Telemundo Jacksonville and Coca-Cola Beverages Florida
Silver Sponsor: Wells Fargo and Jacksonville Electric Authority (JEA)
Bronze Sponsors: PQH Group and Arlington Toyota
In-Kind Sponsors: Chicbooth, MiAddvantage and DEX Imaging
Scholarship Donors: Alive Credit Union, Deutsche Bank, VyStar Credit Union, Florida Blue, University of North Florida (UNF), Jacksonville Jaguars Foundation, Decons Energy, 904 Happy Hour, Jimenez-Bellasario Family Trust (in honor of Clark Vargas)
Table Sponsors: Fisher Tousey Attorneys at Law, Baptist Health and EMED Multispecialty Group
Gala Sponsors: YMCA of Florida's First Coast and Tropic Mechanical Contractors
FCHCC thanks all our Sponsors, Corporate Partners and the Gala Planning and Selections Committee Members for all their hard work in making this event once again successful.
The Mission of the First Coast Hispanic Chamber of Commerce (FCHCC): to positively impact the regional economy by creating value, promoting and facilitating the success of Hispanic-owned businesses and by engaging the community at large.
###
Media Contact: Chief of Staff, chiefofstaff@fchcc.com
Phone: (904) 346-1118 ext. 3
Website: https://fchcc.com
FCHCC Strategic and Large Corporate Partners are: Florida Blue, iHeart Media, CMG Cox Media Group, Southeastern Grocers, Prospera USA, Norsan Media, Sherwin-Williams, VyStar Credit Union, Jacksonville Transportation Authority (JTA) and MiAddvantage.